As you move up the yachting ladder, from 25-foot day boats to 40-foot cruisers and 60-foot-plus motor yachts and superyachts, things begin to change. You begin to expect secondary and tertiary lounging zones, extra cabins for guests on longer cruises and an enhanced features list with extra potential for customisation. And once you get beyond 70 feet, those changes really start gathering pace. While extra space, flexibility and facilities are of course central to that extra investment, so is the sheer quality of the experience, with premium materials and extra design flair as standard, as well as greater cruising refinement, extra privacy for guests and, in many cases, a show-stopping master suite.
For many, however, the most rewarding large yacht size band is between 70 and 99 feet. This is because, while yachts of this scale promise all the traditional benefits that come with a larger platform, the increase in logistical complexity tends to be relatively manageable. After all, superyachts at this length can usually be classified as a recreational boat by virtue of the fact that its load line length sneaks just beneath the 24m 'Pleasure Craft' RCD limit. While Princess's latest Y Class craft and its radical new X Class range are certainly very impressive boats in their own right, the fact that they enable you to enjoy a true slice of superyacht space and luxury, alongside the self-drive simplicity of everyday leisure boats, makes the ownership experience extremely attractive.
Stylish and indulgent: the Princess V78
As the flagship of the V Class line, the 39-knot Princess V78 is an object lesson in relaxed on board living. The central access point from the hydraulic swim platform takes you up to a wide-open cockpit with easy lounge seating and a galley that straddles the space between external deck and internal saloon. The saloon itself is equally attuned to flexible living, with three separate seating areas, an elevated twin helm and outstanding natural light, courtesy of a vast electric sunroof and long panoramic windows. In spite of the generosity of the day spaces, the Princess V78 also provides accommodation for eight people in four en suite cabins, including a master stateroom with its own private stairway. With her contemporary layout, her fluid exterior lines and her exceptional seakeeping, the V78 is a supremely satisfying motor yacht.
Spacious and dynamic: the Princess S78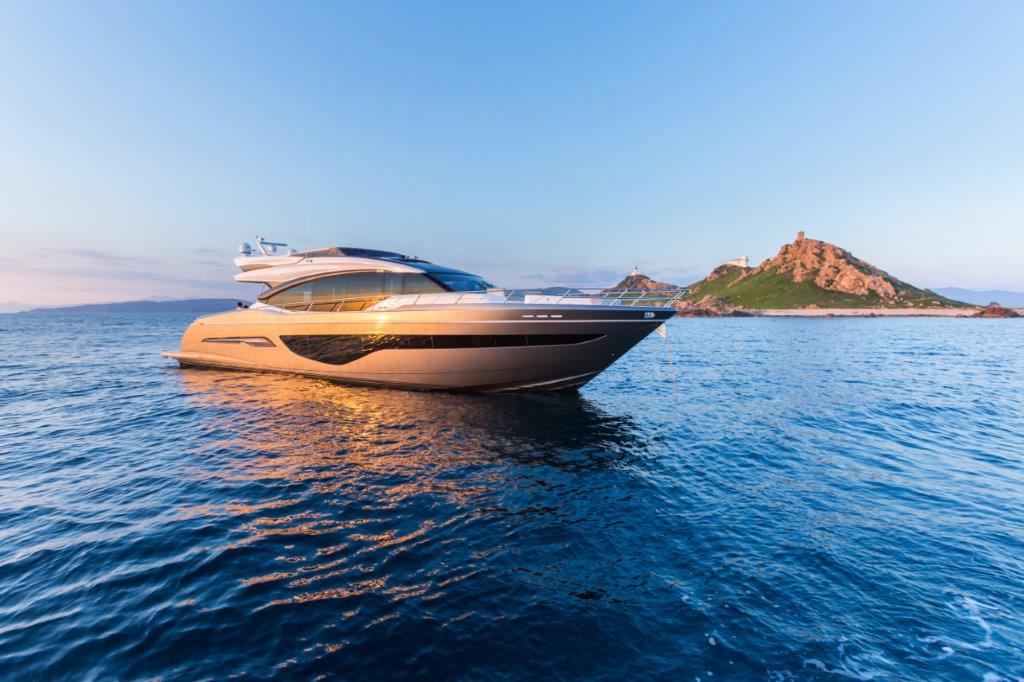 Few tri-deck motor yachts have the style and dynamism of the sportbridge-equipped S78. Her main and lower decks provide the same outstanding spread of socialising and sleeping spaces as the V78, alongside familiar Princess design accents, like angled geometric furniture, hand-stitched feature panels, metal inlays and marble worktops. But the low-slung fly deck enables the raked, coupe-style S78 to deliver an even greater level of recreational versatility. Set a little way aft, the twin central helm and peripheral seating units provide masses of space for the entire ship's company to relax. Its intelligent design also enables guests on the main deck to enjoy plenty of natural light through the overhead sunroof – and yet, with a table, a wet bar, a set of waterproof B&W speakers and an optional lava brick barbecue, there's much more than just a great view for those who venture up top.
Classical and elegant: the Princess Y95
The Y95 delivers one of the world's most refined yachting experiences. In addition to 26-knot performance and impeccable seakeeping, this superyacht is highly adaptable, enabling you to integrate with friends in a communal day space or to find a quiet place to enjoy some relaxed privacy. The quality of the fit and finish is sublime throughout and, thanks to the longest hull windows ever installed on a Princess yacht, there are spectacular sea views from both the main and lower decks. While the four-cabin lower deck features four en suite guest cabins, there's also a magnificent full-beam master suite, positioned for optimum privacy and superb views, on the forward part of the main deck. The optional beach club is also a fine way to upgrade your on board experience. Positioned adjacent to the swim platform, it enables you to recline on a settee, with drinks and nibbles from the integrated galley, and enjoy a real sense of intimacy with the water.
Bold and pioneering: the Princess X95
As the flagship of the new X Class 'Superfly' family, the Princess X95 is something truly special. More voluminous and open-plan than traditional Princess designs, the X95 provides around a third more internal space than a conventional flybridge yacht of a similar size. While that can be seen very clearly both on the bright open-plan main deck and in the generosity of the four lower deck en suite staterooms, the fly deck is arguably even more extraordinary. It features a highly versatile raised wheelhouse with a private climate-controlled Sky Lounge, ahead of a vast single level deck space that enables each owner to tailor the layout to their intended use. By bringing together the range and practicality of a compact explorer vessel with the space and luxury of custom superyachts, this radical new boat enables you to take your yachting experience to the next level – and all without exceeding that critical 100-foot mark.
Princess Motor Yachts Division
While large yachts and superyachts are able to deliver more space, prestige and versatility, the logistics involved with their ownership and management have to be carefully considered. That's why the Princess Motor Yachts Division is proving so valuable. Set up specifically to help large yacht owners pick the right yacht, the right options and the right ownership and management structures, it delivers the full spectrum of services relating to large yacht ownership. In addition to providing a range of insurance and financing solutions, it enables us to tailor the legal ownership of a large yacht to work for you and your personal circumstances. And whether you want to offer your yacht for charter or reserve it solely for private use, our European network of mobile engineers means we can provide 24-hour support and back-up whenever and wherever you need it. If you're keen to take the next step on your yachting journey but you want to do so without the stress or doubt, the Princess Motor Yachts Division is ready to assist.