A Balearic islander's view of delightful Cala d'Or
When thinking of a relaxing yachting destination, the Balearics is more than likely to come high up on your bucket list. From simple boat day trips to luxurious cruising and chartered yacht voyages with crew, it's easy to understand why these islands are a magnet for lovers of leisure yachting.
Many flock to Alcúdia, a vibrant hub for superyachts and a resort flanked by pretty beaches. The chic city of Palma is also a popular port of call. But among the best Balearics destinations for boat and yacht adventures, Cala d'Or in South East Mallorca is certainly worth considering.  It boasts attractive beaches, is the hub for many yacht amenities and on top of this serves as a handy embarkation point from which to visit nearby resorts.
Cala d'Or beauty spots to explore
The scenic craggy coastline of Cala d'Or is composed of seven coves or calas. Cala Gran, with its sandy white beaches is a well-established lively resort featuring bars and restaurants, play area and other public beach facilities. Cala Ferrera is another popular family resort with hotels and beaches dotted with parasols, and is a superb place to snorkel.
Further north to Cala Serena and the surrounding scenery takes on a more natural appearance.  Nestling in the coastline are craggy sheltered calas and bays, where the waters are shallow, calm and warm. The ideal beautiful and peaceful spot to unwind out of peak season.  If you desire more seclusion, you can always drop anchor at numerous private points in the vicinity. Or perhaps stop off at a quaint traditional fishing village such as Porto Cristo, spending time in its graceful harbour where both pleasure craft and small fishing boats mingle.  There are plenty of amenities here for you to extend your stopover, maybe by using the opportunity to seek out the nearby wondrous underground Cuevas del Drach caves.
Head south-east for natural and traditional wonders
For a refreshingly untouched perspective of the unique charms of the island of Mallorca, cruise to the Southern-Eastern region, where pine trees cloak the hills of the Mondragó Natural Park and gorgeous coves lay in wait.  Swim in the stunning turquoise waters in the bay off the quiet Caló del Moro beach. Or venture further along the shores to another spectacular powdery white sandy beach, Playa Es Caragol, cocooned with wild sand dunes.
For a snapshot of authentic island life look no further than the coastal village of  Colonia Sant, lying west with its relaxed marina,  handful of charming eating places and handy proximity to the Cabrera Island nature reserve.
Planning your luxurious yachting itinerary around Mallorca
If you are on board a larger yacht, Cala d'Or makes a convenient base for circling the island of Mallorca, and picking alluring places along its shores to explore. The island has several notable destinations that will help you to get the most from your luxurious cruise and satisfy your thirst for a buzzing nightlife, fine dining, culture and energetic watersports.
Palma de Mallorca, the Balearics capital, stands out as a unique lively yet elegant port. Centred around an impressive superyacht marina, it pulses with energy in every season, with bars, restaurants and a sprinkling of art museums.
Benefiting from a large-scale spruce-up during the past 10 years, Puerto de Sollér draws exclusive charter yachts and keen water sports enthusiasts with its long beach, which stretches for half a mile the jewel in its crown.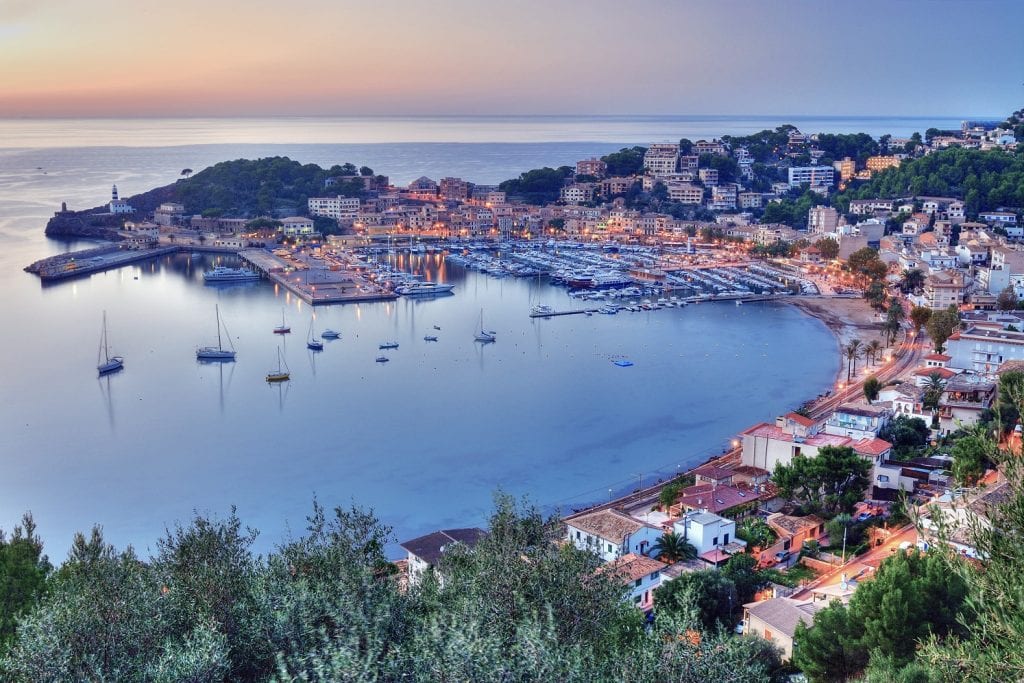 Alcúdia, meanwhile, as the island's biggest resort offers something special for everyone. Within its ancient fortified walls are bustling markets, premium boutiques and two extensive sandy safe beaches to keep both and young happy.
Mooring at Cala d'Or marina
If you choose to berth at Cala d'Or marina you will find a wide choice of eateries for sumptuous dining and relaxed bars to put you in the party mood in the evenings.
The marina brings together a vibrant international mix of yachters. Catering well for this exclusive audience is Yacht Club Cala d'Or with its eye-catching curved restaurant and bar area.  Take advantage of its long infinity pool, gym, steam room. Or simply soak up the soothing surroundings of its lush green gardens against the fabulous backdrop of the amassed yachts.
Explore the best of the Balearics aboard the perfect Princess yacht
After mapping out your chosen dream destinations and itinerary you need to source the most suitable yacht. As well as offering valuable local insider insight on the best places to visit on your travels, we have many years' experience in matching the best yachts to our customers' needs. Established in 1965, we are the world's leading dealer of new and pre-owned Princess Yachts ranging from 35 up to 95ft in size. Whether you are thinking about renting, leasing, purchasing, or opting for shared ownership, we can run through the various options that are open to you.
Wherever they are on the map, our Princess Yacht owners feel totally assured that our unmatched aftersales service offers them the highest level of service support. We train and employ our own technicians to ensure crucial reliability.
Backed by its esteemed heritage and a wide choice of reliable vessels to suit every lifestyle, Princess Motor Yachts allow you to get the most out when discovering all parts of these stunning Spanish islands.  No area is off limits, as you take to the helm of our high-performance luxury yachts.  Choose from a wide range that takes in our latest ground-breaking R35 sports boat, the explosive power of our sporty V Class cruisers and the pioneering X Class superfly models. Suddenly, Mallorca's neighbouring islands and the vibrant culture of the cities across the Spanish mainland are just a tempting hop away!