Princess Yachts has been a major player in the world of luxury yachts for over half a century – and with a modern fleet spanning 20 boat models across six product lines from 35 to 95 feet, the current line-up is broader and more exciting than ever before. At the lower end of the size spectrum, from 45 to 62 feet, sits the iconic F Class line of flybridge motor yachts. As the size increases, the Y Class takes up the flybridge mantle, with a line of spacious 'mini superyachts' from 72 to 95 feet. Between these two lines, the S Class range of 'Sportbridge' luxury yachts bridges the gap with three impressively low-profile flybridge sports yachts from 62 to 78 feet. And outside of the flybridge family, those who prefer a sleeker, more agile powerboating experience are well serviced by the performance-optimised V Class. But while these four core product lines offer a powerful re-voicing of Princess's traditional strengths, the recent arrival of the foil-equipped R35 open sports boat and the expedition-style X Class has brought a fresh perspective to the fleet.
To help distinguish one class from the next, what follows is a simple breakdown of the Princess fleet by feature and application.
Princess X Class superyachts: for far-flung adventure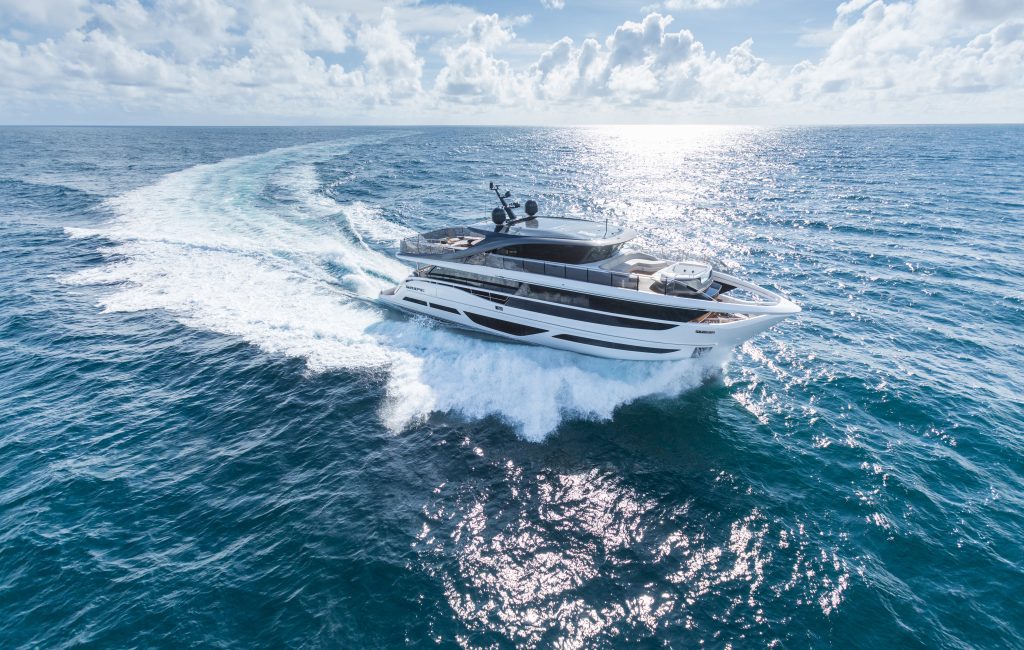 The X Class delivers an altogether new form of yachting experience. With main and fly decks that extend virtually the entire length of the yacht, as well as climate-controlled Sky Lounges and flexible open-plan layouts, the X Class provides the space and luxury of a superyacht with the range and purpose of a compact explorer vessel. The X95 in particular delivers an internal scale and volume that, even ten years ago, would have required you to exceed the 24m RCD leisure craft limit and take on the added cost and logistical complexities of owning and operating a crewed commercial vessel. With wide-open spaces that make it easier to customise than any other line in the entire fleet, it's a brilliant option for yacht charter and a great solution for owners who want to go cruising for months, rather than weeks, at a time.
Princess Y Class luxury yachts: for cultured cruising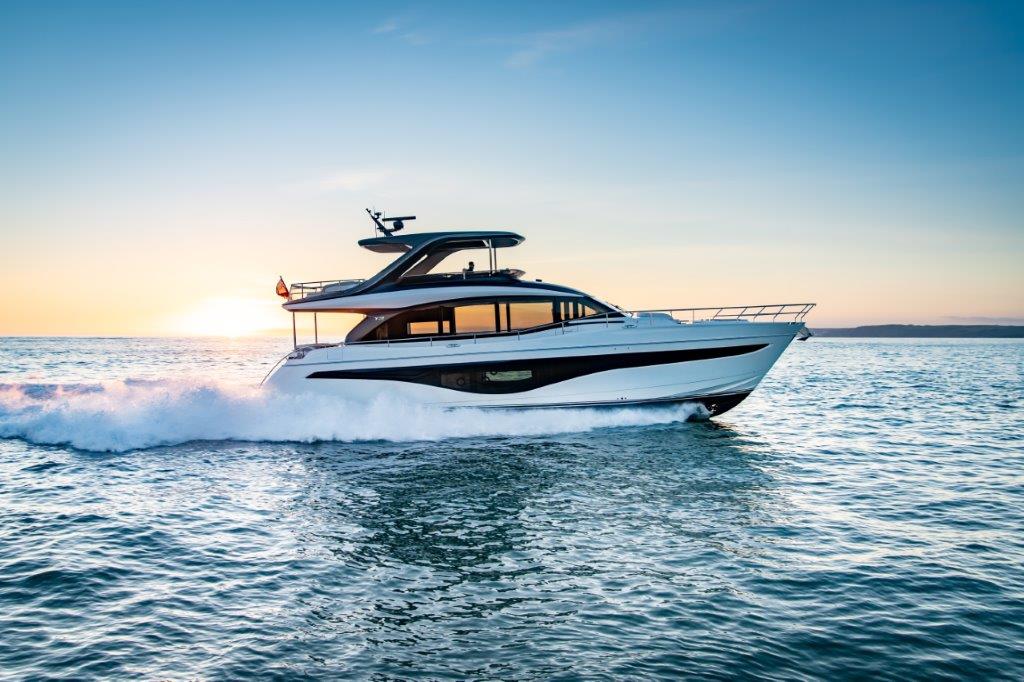 With premium guest comfort, first-class seakeeping and all the space you need for long-distance cruising, the Y Class is all about luxury yachting at its most sophisticated. Though arguably less ostentatious in appearance than other sub 100-foot 'superyachts', even the smallest model, the Y72, uses an Olesinski exterior design that is defined by elegantly sculpted three-dimensional forms. It also features full-length windows that echo those on the new Y95 flagship, plus a flybridge that provides the option of an extended hardtop with a stylish louvered roof. The foredeck sunbathing area can be converted to include forward or aft-facing seats and while the sociable helm is ideal for owner-operator use, there are also excellent facilities for crew.
Princess F Class luxury yachts: for on board entertaining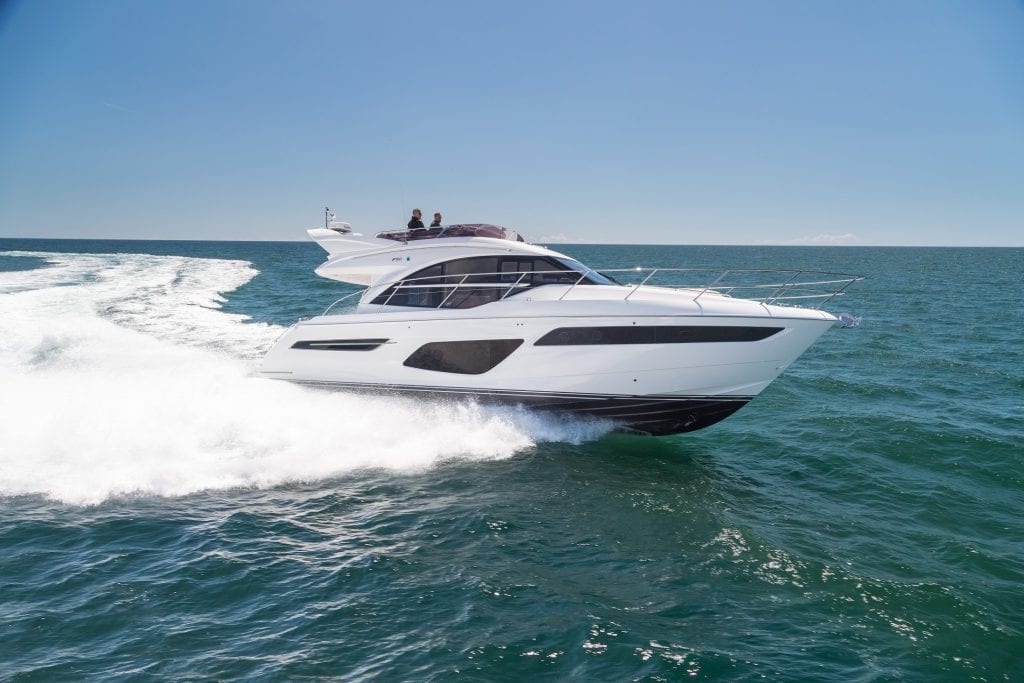 As the traditional core of Princess's business, the multi award-winning F Class is all about safe year-round family cruising with spacious interiors, big flybridges and user-friendly on board entertainment solutions. While the line includes the three smallest flybridge options in the Princess family (at 45, 50 and 55 feet), the use of full-volume hulls gifts the F Class all kinds of practical benefits. Their efficiency and long-distance cruising comfort makes them ideal for extended sea passages and live-aboard family holidays. In addition to expansive glass panels for natural light and unobstructed sea views, key highlights include large climate-controlled main deck saloons for year-round comfort, plus vast custom-friendly flybridges that run virtually the entire length of the saloon.
Princess S Class sports yachts: for sleek flybridge sport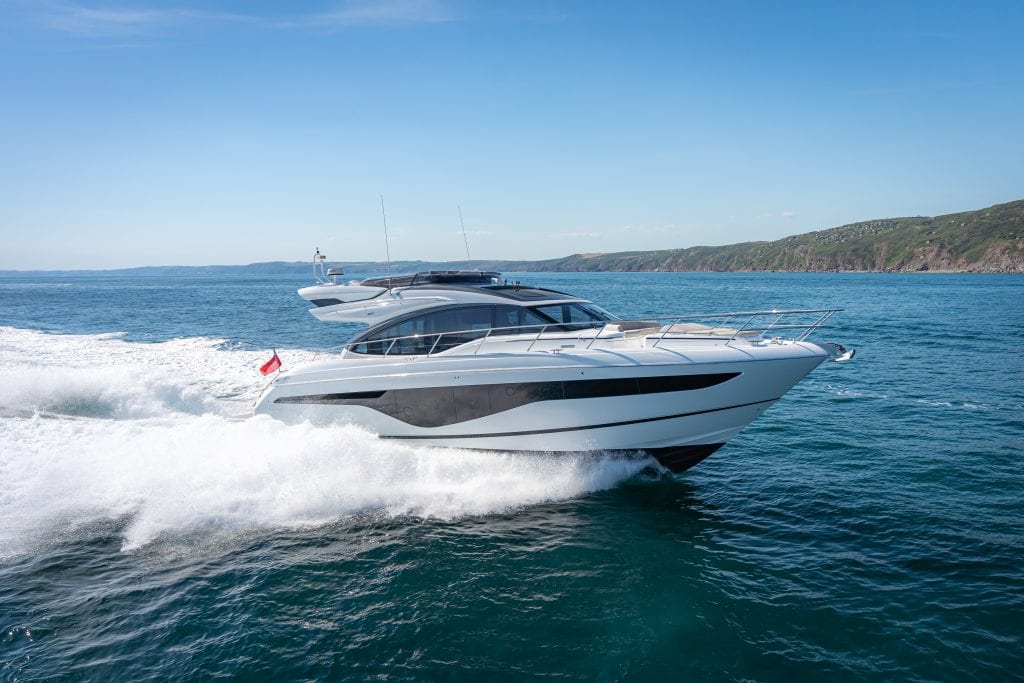 The three-strong S Class line is designed to offer demanding boaters the best of both worlds. You get three decks for a wide range of inside and outside entertaining options. But because the upper 'sportbridge' is shifted aft and dropped deep, it creates a much sleeker, more dynamic profile than that of a traditional flybridge cruiser. In addition to improved performance and agility, that also enables those in the main deck saloon to enjoy lots of extra natural light thanks to the sliding overhead sunroof.  With lightweight deep-V hulls, the S Class is capable of speeds pushing on toward the magic 40-knot mark, as well as impressive efficiency and excellent ride softness you come to expect from a luxury yacht. Outside, the use of aft cockpits with generous garages and sunpads makes these excellent boats for watersports, as well as for alfresco parties.
Princess V Class luxury yachts: for style and handling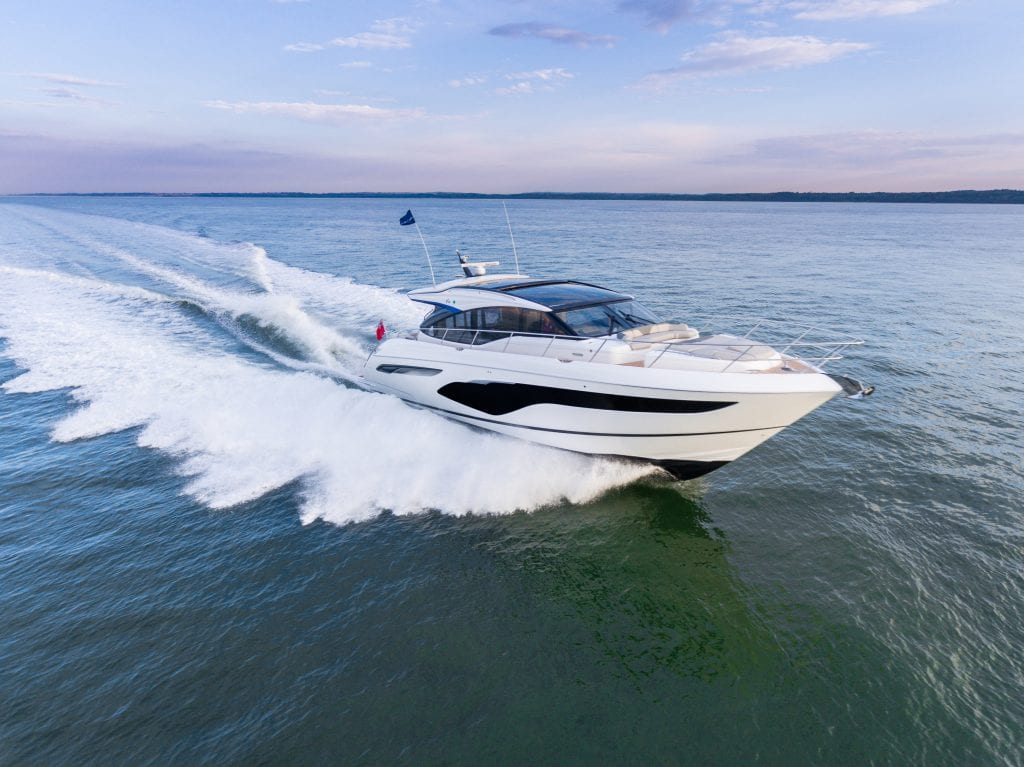 In the absence of the extra bulk, weight and windage incurred by a fly deck, the V Class is all about luxury open boating with premium performance. Originally introduced way back in 1994, it remains true to those core principles today, with a range of six luxury yachts from 40 to 78 feet, which continue to place the priority on style, handling and sheer driving pleasure. Perfect for watersports, for relaxed outdoor gatherings and for comfortable breaks away with family and friends, key features include retracting windows, doors and sunroofs for protection when you need it and open boating sensations when you don't. They also include plenty of lower deck light thanks to that trademark V Class hull window, plus sociable helm arrangements, a wide selection of seating areas, convertible foredeck entertainment zones and easily configurable aft decks.
Princess R Class yachts: for cutting edge performance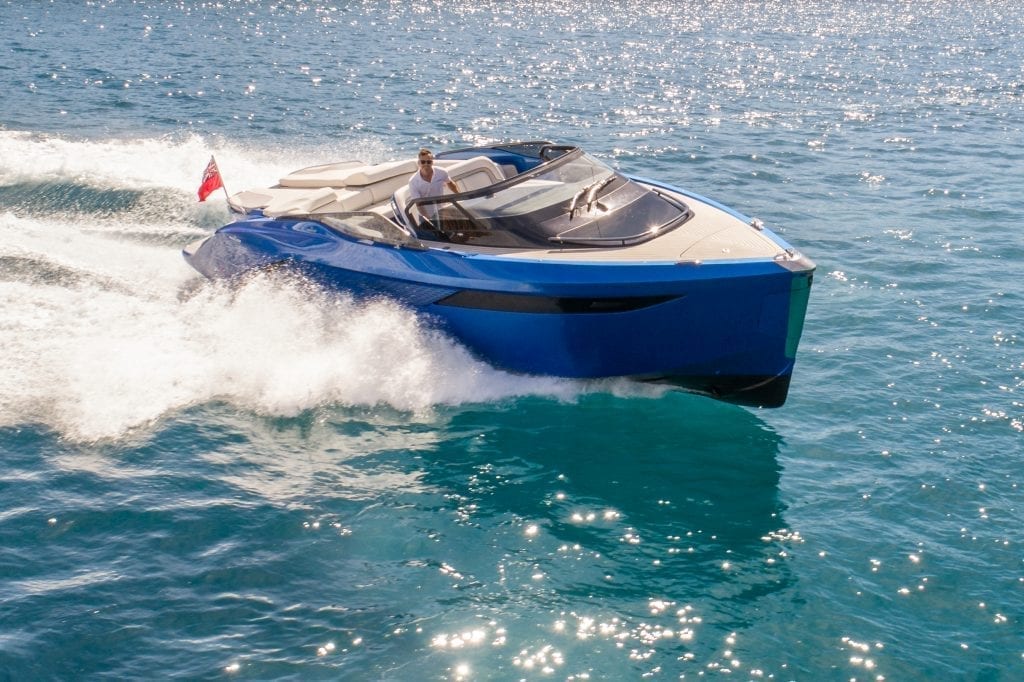 Launched in September 2018, the radical 50-knot R35 is the smallest boat in the fleet, the fastest Princess has ever produced and the mouthpiece for a whole range of extraordinary new technologies. It features hydrodynamic input from BAR Technologies and styling input from Pininfarina SpA. It is also constructed from carbon fibre and it uses a new active foiling system, optimising running attitude, reducing vibration, increasing stability and fine-tuning the handling. For boaters who want a cutting edge design that takes fast open boating to the next level, there's really nothing to touch it.